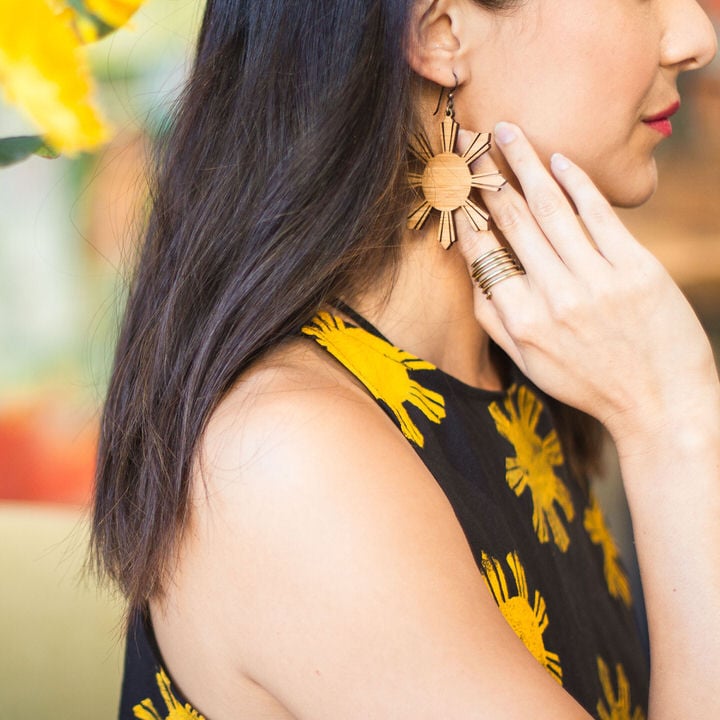 ARAW Earrings
Please note, all items are PRE-ORDERS that will ship by December 8th, 2021 in order to streamline the shipping process.
FEATURES (see additional photos below text)
- Laser-cut from bamboo (a renewable + sustainable resource)
- Lightweight
- Each piece is one-of-a-kind, due to the natural wood grain
- Hypoallergenic ear wires, made of niobium
- Clip-on earrings are available upon request: add a note in the notes field during checkout to indicate the need for clip-on parts.
STORY BEHIND THE DESIGN
ARAW EARRINGS are designed to honor the PILIPINX diaspora, to act as a visual reminder of our shared histories. Celebrating the iconic sun emblazoned on our Philippine flag, the ARAW // SUN signifies the efforts of all who shed their blood for the country during the 1896 revolution against Spain, with its eight rays signifying the eight provinces with significant involvement in the revolution: Bataan, Batangas, Bulacan, Cavite, Laguna, Manila, Nueva Ecija, and Pampanga. Wear these earrings with pride and tell our stories to all who listen.
Photo credit: Catelyn Anne Manansala
CARE INSTRUCTIONS
Please handle earrings with care, and avoid pairing them with scarves or other clothing that the spindles can get caught on and cause breakage. Niobium ear wires can be wiped clean with a soft cloth dipped in mild soapy water. Take care to not expose the bamboo to water; the wood is finished to be water resistant but is not waterproof. Excessive moisture can warp the natural wood.
SHIPPING
Orders will be shipped by 12/8/21 via USPS First Class mail. We anticipate slower than usual shipping times and thus plan to mail orders a full week before USPS recommended cut-off dates. All orders will receive a tracking number once the package is shipped. We appreciate your patience and support of this small business as we continue to navigate these uncertain times.
RETURNS & EXCHANGES
Please visit our policies page to familiarize yourself with our return and exchange policies prior to your purchase.